Used replacement parts and accessories for BlackBerry — Simply cheaper
InfoResheniya, ltd. is a reliable supplier of BlackBerry parts and accessories worldwide, including the US, Canada, Europe, Asia and more. We offer not only new ones, but also used products for BlackBerry — a great opportunity to save money, but maintaining the quality.
Why buy used BlackBerry replacement parts and accessories?
It is simply cheaper. Yes, in some cases, it is the opportunity to buy original and almost new goods cheaper by 50-90%!
Some of you appreciate the appearance, but some — practicality. We understand this, and offer used goods. For example, why to install a new screen to replace broken one, if the device is "threadbare" already anyway? The most important thing is to make it work! Original BlackBerry spare parts work as long as you need, no matter new or used.
We guarantee full operability for used BlackBerry goods. They differ only in appearance.
Reason to repair your old BlackBerry
Pelting your broken BlackBerry pigeonholed, because don't want to spend money on its repair? Fix it with used replacement parts, it's just cheaper!
We are shipping used BlackBerry parts worldwide.
Used parts condition, terms of purchase and delivery worldwide
Used BlackBerry goods are not new products, and they may have external flaws. They can be:
Housing parts taken from used smartphones
Accessories that have been used previously
New products with external defects
Please note, some of the internal parts, the appearance of which does not matter, such as PCBs, speakers, vibro motors, connectors, antennas, can be new or used one, but sold as new.
External flaws for used goods differs, but they all are fully functional always. For example, buttons on the bezel work well, a trackpad have a good response, the screen show with no defects.
All of BlackBerry used goods are in good condition. We do not sell "completely dead" used goods, broken screens and dirty parts — we offer you a full-fledged alternative to new products for your savings. Products are cleaned before selling with a special solution, and tested for functionality. Here are a few comments on the various types of used goods:
Batteries: retained 80%+ of resource
Touchscreens and screens: no cracks, not broken
Memory cards: no defective areas for writing and reading
Keyboards: all the buttons work well
Housing parts: full functionality
Cases: integrity is preserved, without breaks
While we do not take photos for used goods, however for those which worth more than $70, we'll take pictures on your request.
We deliver used BlackBerry products worldwide, and choose best one among available.
How do I know if needed used good available
You can see the stock for used-versions of products on our website: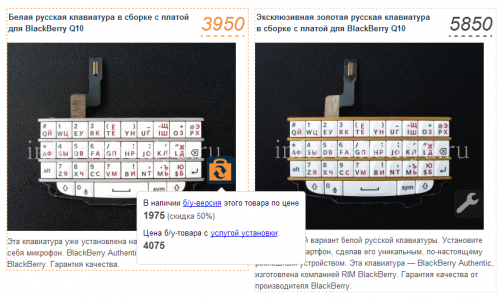 If you notice this icon — so used good is available. Bring the cursor to see its price and additional information.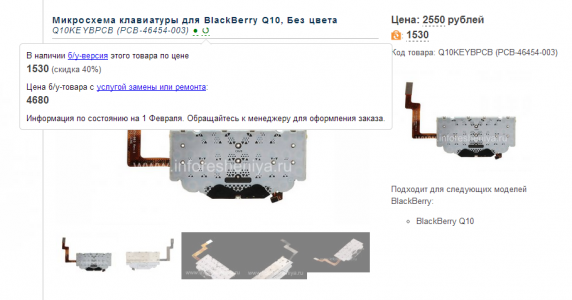 Pay attention to the headlines of product galleries also. Next to information on the availability of a new product marked with ●, can be an icon ↺, notifying you of used-version
availability
. Hold the cursor to see more information.
Warranty and return policy
Everything is simple:
Used goods have the same warranty and return policy, as new products.
That is, i may return my purchase within 15 days? — Yes.