The engraving of Russian letters on the keyboard
This page is translated by robot. You may
contact us
if you have any questions on this item.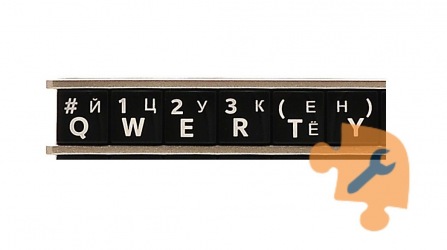 The engraving of Russian letters on the keyboard
If your BlackBerry without a physical keyboard is equipped with Russian letters, this issue can be solved in two ways:
Apply Russian letters by laser engraving
Set factory Russian keyboard.

This service — first option. Deadline — 1-2 days.
If you are interested in a second — note the service installation of Russian keyboard (in this case the cost of the keyboard is extra paid, and you have the opportunity to choose the original keyboard, copy, or a keyboard with an engraving).
Get this service via
mail-in worldwide
. Easy as 1-2-3-4, and top-level quality are guaranteed.
Alternative input in Russian on BlackBerry smartphones
Putting in Russian on the BlackBerry is possible both in the presence of Russian keyboard, and without it: a Russian keyboard "QWERTY" and the phonetic set (transliteration). Ideal — Russian keyboard input, the second option is recommended only if the Russian keyboard for your BlackBerry models is not available. Russian keyboard is much easier to work with smartphones BlackBerry, providing comfort and typing speed. Having established Russian keyboard, you will feel how easy and fast you can type the text, as the original Russian keyboard will give a nice aesthetic look to your BlackBerry.
We offer you different kinds of keyboards for BlackBerry (depending on model):
Authentic — keyboard is manufactured by RIM BlackBerry. Quality assurance from the BlackBerry maker
Copies — manufactured at third party refineries, inexpensive alternative to the keyboard Authentic
Engraved — original English keyboard with drawing engraving of Russian letters — we can apply the engraving of Russian letters on English keyboard is already installed on your phone (service on this page)
We recommend that you keyboard Authentic, but always offer a choice.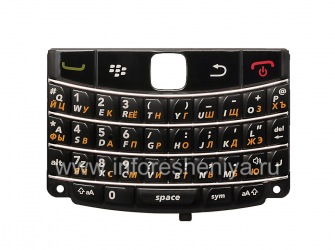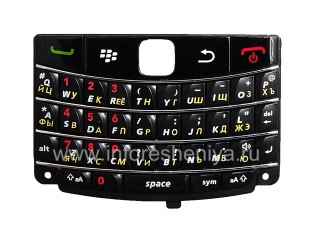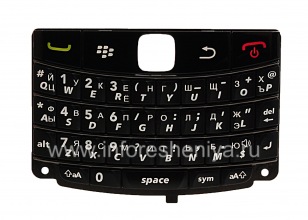 The application of laser engraving of Russian letters on the keyboard BlackBerry
BlackBerry is famous for the convenience of the input and the world's best keyboard. Therefore, the engraving of Russian letters to do the maximum quality. We are guided by the following principles:
Proper location of Russian letters: BlackBerry smartphones of different models have different layout of Russian letters. For example, a key on the BlackBerry 9700 "Q" corresponds to two Russian letters "J" and "D", and BlackBerry Passport — only a "J".
The successful positioning: Russian letters must be placed not only on the appropriate key, and choose their position, optimal for ease of entry.
The optimal size: the size of the engraved Russian letters depends how noticeable they are. On the other hand, you can not go too far to the Russian letters "climb" in English, or at the numbers.
High-quality engraving: the quality of a laser determines how long is the keyboard, and the contrast of Russian letters against the English.
Method of application: Depending on the method of application of engraving or Russian letters will be highlighted in the dark, or BlackBerry will be deprived of benefits.
See examples executed engraving of Russian letters on the keyboard for the BlackBerry: