Pruning SIM-card to a standard Micro-SIM
This page is translated by robot. You may
contact us
if you have any questions on this item.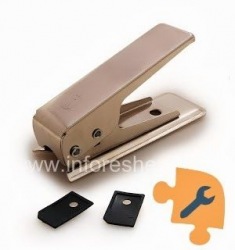 Pruning SIM-card to a standard Micro-SIM
New BlackBerry models work with SIM cards of standard Micro-SIM. Therefore, if you have an ordinary SIM card, it must be properly cut — lead to a standard Micro-SIM.
We trim SIM-card to a standard Micro-SIM for BlackBerry smartphones 10 for 5 minutes.
Get this service via
mail-in worldwide
. Easy as 1-2-3-4, and top-level quality are guaranteed.
Micro-SIM for BlackBerry
SIM-card (Eng. Subscriber Identification Module — Subscriber Identity Module) — subscriber identification module used in mobile communications, used in networks GSM.
The main function of SIM-card — storing identification information about your account that allows the subscriber to quickly and easily change the mobile devices, without changing your account, but simply rearranging your SIM-card in another phone.
Micro-SIM — updated and miniature alternative SIM-cards to identify users on mobile devices. The physical size of the card is 12 x 15 mm. Micro-SIM less than conventional SIM, used in mobile devices, however, the contact plate and the exchange interface they are generally identical. Therefore, in most cases, you can get a micro-SIM from usual SIM-card by cutting the plastic case, what we are doing with the help of a special device, SIM-Cutter.
Pruning SIM-card to a standard Micro-SIM relevant models running BlackBerry OS 10, including:
BlackBerry Z30
BlackBerry Q10
BlackBerry Q5
BlackBerry Z10