Replacing the keyboard connector
This page is translated by robot. You may
contact us
if you have any questions on this item.
Replacing the keyboard connector
keyboard connector enables connection of keyboard chip to the motherboard. We will carry out a replacement connector for 1-5 days.
Get this service via
mail-in worldwide
. Easy as 1-2-3-4, and top-level quality are guaranteed.
Replacing the keyboard connector on BlackBerry a qualified service center
Our specialists will repair your BlackBerry even in the case of damage to the connector. Keyboard connector is the "mediator" between the keyboard device chip and the motherboard. In case of damage (usually corrosion in contact with water), the replacement of the keyboard and the chip does not work, — need to change the connector.
For replacement, we use the original connectors that are specific to different BlackBerry devices. Replacement procedure is complicated, as it requires soldering precision. It takes time and a certain.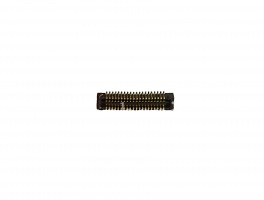 Not all devices have BlackBerry keyboard keyboard connector. If the keyboard does not include the chip and communicates with the help of a contact substrate, the connector does not. However, current models have BlackBerry multifunction keyboard, trackpad, and performs functions and include the chip, which is connected via this connector.
keyboard connector can be replaced on all models BlackBerry, physical keyboard that includes a chip, for example:
BlackBerry DTEK70 Mercury
BlackBerry Priv
BlackBerry Passport
BlackBerry Q10
BlackBerry 9900 / 9930 Bold
A full list of models and the replacement rates, see above with the help of the element "price of the service for your model BlackBerry».