Complete cleaning of dirt
This page is translated by robot. You may
contact us
if you have any questions on this item.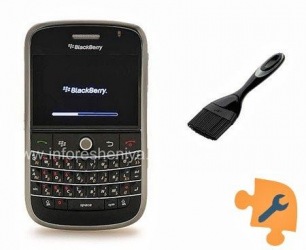 Complete cleaning of dirt
While using your device is contaminated, not only outside but also inside. Accumulating dust and dirt not only degrade the performance of mechanical elements such as a trackball and keyboard, but also increases the resistance in the electrical circuit of the device. Entrust cleaning your device specialist who can disassemble it completely, it will make the procedure and properly collect.
Perform on-site for 15-40 minutes.
Get this service via
mail-in worldwide
. Easy as 1-2-3-4, and top-level quality are guaranteed.
Full cleaning of the dirt on your BlackBerry smartphone
In use, the BlackBerry smartphone will inevitably fall into the cabinet, dust, dirt, grease, and other substances. All this adversely affects not only its appearance but also in performance. Why? The thing is that all the electric components are heated in the course of their work, especially processor and memory, and good heat dissipation it is absolutely necessary; contamination of the smartphone drastically reduces heat transfer and it overheats. This, in turn, can lead to failure of the BlackBerry system.
In order to "wash" the smart phone, it must be properly disassemble and assemble after the procedure, which requires a good knowledge of procedures — simply 'watch the video on YouTube "is not enough. Sama cleansing should be done with special alcohol solutions.