Replacing the motherboard
This page is translated by robot. You may
contact us
if you have any questions on this item.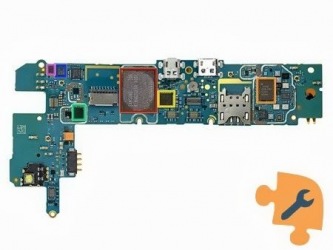 Replacing the motherboard
Motherboard — "heart" of your BlackBerry. In cases where it can not repair, it must be replaced. Perform on-site for 20-50 minutes.
Get this service via
mail-in worldwide
. Easy as 1-2-3-4, and top-level quality are guaranteed.
Replacing the motherboard in a specialized service center BlackBerry
Smartphones BlackBerry — high-tech devices, and not in all cases lend themselves to repair. If repair is not possible, the solution is to replace the motherboard. This is the most costly repairs, but with well-preserved body of the screen or it is economically justified.
Motherboard (motherboard) BlackBerry — integrating element, which are arranged and combined in a system CPU and GPU, RAM and flash memory, as well as connectors for the camera, ports, antennas, and many other elements. Many elements of the motherboard on the BlackBerry can not be replaced, and physically closed "compounds" (this is a thermoplastic polymer resin), and metal boxes: on the one hand, it increases the security's BlackBerry "hacker" attacks, the other — «puts an end" to the maintainability .
The most common causes irreversible damage to the motherboard are:
liquid damage
severe physical damage
the impact of electricity
damage to the food chain unoriginal charger or battery
We motherboards available on selected models only BlackBerry. Check with the manager if you are interested in this repair.
Examples motherboards for BlackBerry:
Replace the motherboard can be on all models of BlackBerry, including:
BlackBerry Passport
BlackBerry Classic
BlackBerry Q10, Q5
BlackBerry Z10
BlackBerry P'9981 Porsche Design
BlackBerry 9800/9810 Torch
BlackBerry 9790 Bold
BlackBerry 9500/9530 Storm
The full list of models and prices see above replacement by using the "price of the service for your model of BlackBerry».